We are so happy that you would take the time to read this letter. We know you have important decisions ahead of you and that you must follow your heart to do what you feel is right, whatever that might be. As with all important things, the more information you have now, the better. We hope this book will help you get to know us: Camille, Michael, and Shayla. The main thing to know about us is that we love our family. In fact, "family" is a word with many meanings for us:
In March 2005, we were married and started our adventurous family of two. We snorkeled in the Great Barrier Reef, hiked through Arches and to the top of Mt. Timpanogos, watched 4th of July fireworks in Washington DC, and went to concerts and football games together. We learned how to lean on one another when life gets complicated. We learned how to love and support one another and how much joy comes from that, and we wanted to add to our family.
The two of us grew up in fantastic families. We both come from families with four siblings. Our brothers and sisters are counted among our best friends. We have 5 adorable nephews and 5 darling nieces—including twin toddlers on Michael's side. We have learned so much from our own parents, who are now loving grandparents. For example, Michael's mom used to say to put a stop to fights among the kids: "Our home is a safe place." That meant that whatever was happening outside the walls of our home, we all deserved to feel safe and loved at home. That stuck with us, and it's what we want in our own home now.
In October 2010 and in May 2015, we were chosen by our beautiful little girls' birthparents to be their mom and dad. Words cannot describe what an honor that was and is. Shayla and Ivy are a great kids, and we love being their parents. Shay has a big heart, and she's ready with a hug and kiss whenever they're needed. She is an amazing big sister. Ivy is just tiny, but we can already see her sweet personality coming through. Camille is a stay-at-home mom, and she and Shay stay busy with crafts and games and endless trips to Shay's favorite place: the park. Michael looks forward to coming home to the three loves of his life. That is when daddy becomes a monster for chasing, a horse for riding, a lap for sitting and telling stories, and an attentive admirer of art projects.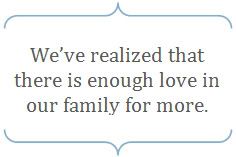 Through our kids' adoptions, we have come to understand family in a bigger, better sense. You don't have to share blood or genes to be family. In fact, through Shay and Ivy we have welcomed their inspiring birth mothers into our family, with whom we love to exchange emails and calls and get together for visits. We enjoy spending time with them and know that they are and will be an important people in our and our daughters' lives.
Being blessed with Shayla and Ivy have been two of the greatest joys we have ever experienced. But we've realized that there is enough love in our little family for more. We are ready to welcome a child into our home, and to welcome that child's birthparents into our lives as well. A child that comes to us would be well cared for and loved because we love being a family, and there is nothing that is more important or special to us. We wish you the very best in your journey and hope that you will find comfort in these difficult decisions.
We hope to hear from you.

Michael & Camille